ALREADY SOLD!

Luxury Villa for sale in Cha-Am
Bargain price
with sea view
Luxury Property Cha-Am and Hua Hin for sale
SOLD!
The enormous entrance of the villa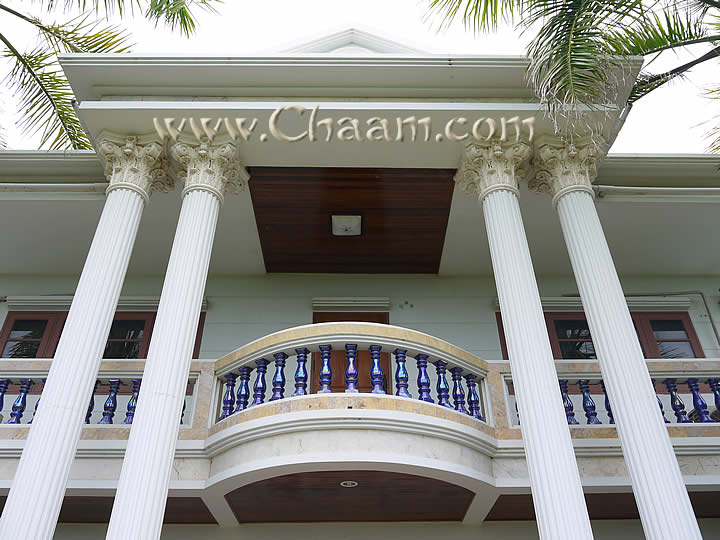 j

Luxury property in Cha-Am resort

Only a few kilometers south of Cha-Am you can purchase your dream home at a bargain price. The original purchase price of 22 million baht has now been lowered to 15 million baht.

Only the property, which is about two Rai is large, approximately 3,200 square meters, has an value of around 12 million baht without the villa, because the plot is close to the sea.

The ultimate luxury of the house consists of the interior that was completely made of rare tropical wood Makamong (Afzelia xylocarpa). The wood is very expensive and very hard to get. It it has a tremendous hardship, is rubust and the structure of the wood is beautiful in dark red colour. It just looks wonderful.

This villa has been build insite almost completely with several tons of Makamong wood. The entire floor, the hand-carved staircase to the upper floor, wall and ceiling, even the doors were carved from this wood. In total around 300 square meters you can enjoy this wonderful wooden floors.

On the ground floor a large wooden wall built in with beautiful ornate wooden walls, with glass doors, which provides a passageway into the lower bedroom.
In the groundfloor you find also a fantastic bar, completely in wood.

The plot can be driven through two gates and has covered carports for 4 large cars. A Swimingpool and air conditioning in the sleeping rooms are also available.
The bedrooms all have two windows, so you can enjoy a wonderful view of nature.

On the Terrain are many rare and exotic palms, which help provide much shade. Thus, your villa is not so hot and the close sea let you always feel a sea breeze.

The plots on the right and behind the villa (location to the ocean) belong to the goverment and are not allowed to built on. This means that you have two sides to an unobstructed view.

This property is a very good investment, all real estate prices are rising very strong in Cha-Am and Hua Hin and you even get this villa much below the market value.

This luxury villa in Cha-Am is for sale


To enlarge the pictures please click on a picture!

You reach the front door via a marble staircase.
Four huge Roman pillars rise up.





Front Carport

Carport and entrance area

Backview of the Cha-Am Villa





Back Carport wit BBQ area

Rare, exotic palms

Roofed terraces





Entrance area
Villa for Sale

Entrance in the villa
view to the left

Wooden Passage
to sleeping room





The Cha-Am luxury villa for sale has stuccoed ceilings



Master Bedroom in Villa
with many windows

Stuccoed ceiling
with dimmable lamps





Entrance of the Villa
view to the right

Elegant wooden bar

Large bar area for parties
in your Luxury Villa





Kitchen with plenty
of storage space

Kitchen with terrace

Marble bathrooms
in luxury Villa for sale





Makamong Wood

Hand carved staircase
of Makamong Wood

Staircase of Villa
view downstairs





Upper living area

Sleeping Room 1

Sleeping Room 2





Sleeping Room 3

Wooden wall
made out of Makamon

Balcony with view
on the Gulf of Thailand




View from the front balcony

The front Balcony of
the Luxury Villa for sale
The most important information in Summary:
Number of Sleeping rooms:
4
Size of House:
About 300 square meters
Number of Bath rooms:
3
Size of Land:
About 3.200 square meters
Balcony:
2
Carports:
Minimum 4 cars
Swimming Pool:
Distance to Beach:
About 500 meters
Air Conditioners:
6
Golf courses nearby:
Springfield
Palm Beach
Kaeng Krachan
Year of construction:
1994
Price:
15 Million Baht
If you are interested Please contact us!

You pay no agency charges.

Contact: Luxury Villa Cha-Am
By Email: info@chaam.com
By telephone: